Community Sharing and Beds for Freezing Nights will not be operating this winter. Carry it Forward has the capacity to host up to 6 additional individuals on freezing nights. The shelter is located at 78030 Hwy 99, Cottage Grove, OR 97424. Carry it Forward's general phone number is (541) 654-0139 (We will post a Cottage Grove number soon).
Activation status: N/A.
Location: N/A, Pets allowed: N/A.
When Active, doors are open between 7 PM and 10 PM. Check out time is 7:30 AM. The site will be closed down if nobody shows up by 10PM. The BFN phone number 541-517-8880 (calls taken during an activation).
Para obtener información sobre el refugio de calentamiento en español, comuníquese con Community Sharing: (541)942-2176. ( Los hispano hablantes siempre son bienvenidos, es posible que no tengamos un traductor en el lugar.)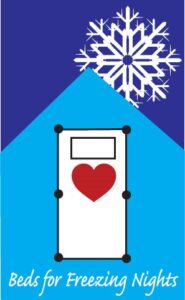 "Warm hearts, warm beds on freezing nights"
Our mission: To provide a safe, warm place to sleep for those who wish to come inside during the coldest nights of the year.
Cottage Grove's Beds for Freezing Nights (BFN) is an Oregon and IRS 501(c)(3) nonprofit corporation working as volunteers under Community Sharing's umbrella this year. It was founded by a coalition of community members representing social service nonprofit agencies, community organizations, Cottage Grove government officials, and individuals from various faith communities who came together to ensure that unsheltered people have shelter during extreme cold weather. Day-to-day operations of the warming center are handled by various committees of Community Sharing Program.
Unsheltered persons, especially those living with medical, mental health, or addiction issues are even more vulnerable in times of inclement weather. Our purpose is to ensure as best we can that all those who need and want shelter in extreme cold weather have it. Everyone who is willing to follow our guest agreement is welcome.
We are in operation from November 15 of each year to March 31 of the following year and open our shelter space on nights when the average overnight temperature falls to 29 degrees F. or below for six hours or more and we have enough staffing. We activate on the recommendation of our Weather Tracker using multiple weather forecasting sources and in consultation with other BFN staff.
The goal of these Operating Procedures is to provide warm beds on freezing nights and to protect the health and safety of all involved – both guests and volunteer staff. To achieve this goal:
We have trained staff on site during all hours of operation, with clearly defined roles and with a single on-site person, designated as the Site Lead, who will make final decisions about all operational issues, including the removal of non-compliant guests if that becomes necessary. We have additional crisis management personnel on call during all hours of operation.
Staff have clear guidelines for all aspects of operations, including set up and use of space, check-in procedures for guests, securing of personal belongings, food service, health and safety issues, caring for persons in physical or mental distress, and emergency procedures.
We have a minimum of two staff members on site always. We have at least one certified staff member (site lead) on site always. Certified staff are volunteers who have completed at least one BFN volunteer training and have passed a criminal history background check. Site Leads must be certified.
Our guest agreement contract clearly states rules and expectations for use of facilities. There are clear consequences for failure to abide by the agreement, up to and including expulsion from the shelter in extreme cases.
The First Presbyterian Church allows dogs and cats only.
Service animals that are fully under the control of their owner(s), are not posing any threat to other people or animals and are not disruptive to the operations of the shelter can accompany their owners into the warming centers. If the service animal does not meet the above behavioral norms, the owner and animal will be asked to leave the warming center until the animal can be brought into compliance. Guests whose service animals are obviously suffering from any health condition, including flea infestation or mange, may be required to sleep in an area separated from other guests for health and sanitation reasons.
Minors not accompanied by a responsible adult will be referred to Station 7 in Eugene as the Looking Glass Rural Program Home will not be available by phone after 5:00 pm. Station 7 will connect them with programs and services.
---
Locations (when active):
Our Lady of Perpetual Help Catholic Church – 1025 N 19th St, Cottage Grove, OR 97424
First Presbyterian Church – 216 S 3rd St, Cottage Grove, OR 97424
---
For more information:
---
Coordinators:
Logistics Coordinator: Steve Nisewander
Volunteer Coordinator: Michelle Thurston
Scheduling Coordinator: Johanna Zee
Weather Tracker: Mike Fleck
BFN Media Committee: Jim Markus – (541) 942-2373 (9am-5pm M-F)
BFN Committee Chair: Ruth Linoz
First Presbyterian Church Liaison and Pet Crates Support: Alison Center
---
Documents:
---
Resources:
---
Want to donate material items? We are currently accepting donations for the following:
Vinyl gloves
Clorox wipes
Disinfectant
Masks (disposable and reusable)
Tissues (both boxes and small packets to hand out)
Hand sanitizer (both large bottles and small bottles to hand out)
Raincoats and ponchos
Warm hats
Gloves
Tents
Sleeping bags
Hand warmers
First aid kits
Toothbrushes
Toothpaste
Floss
Small mouthwash
Deodorant
Shampoo (small)
Conditioner (small)
Soap
Combs/hairbrushes
Ear plugs
Lotion (small)
Nail clippers/files
Tampons
Pads
Body Wipes
Sewing kits
Tea
Sugar packets
Instant soup packets
Instant oatmeal packets
Thank you very much! Please drop donated items at Community Sharing – 1440 Birch Ave. (10 AM to 3 PM)
---